Kanika Dhillon not only wrote many screenplays for films that are popular beyond borders like KEDARNATH, HASEEN DILLRUBA and MANMARZIYAAN which just released on DVD in German this month. She is also the first writer to get top billing on a Netflix poster in India and she is very committed to ensuring that writers in the future get more credit and respect in her film industry. Therefore ISHQ is happy to feature her on the September Cover of the magazine to represent a welcome change that puts more focus on the content rather than just the stars of the films. "I'm glad to be working in these times and I'm more than happy that in some cases I also took the first step," Dhillon tells our readers in a 12 pages long interview.
She explains why that change is happening right now with streaming platforms leading the way, why it is so important that women in India have financial freedom and she elaborates on the context of her films for people who live in other countries and sometimes need to understand a little better where these characters are coming from and how for instance an arranged marriage works in modern India. A lot of her stories also touch upon important social topics that invite controversial discussions and she likes it that way: "I would probably not be fulfilled as an author if my work doesn't start a discourse." Kanika Dhillon has become a star of her films and she is redefining boundaries in many ways. She's a game changer and her name now comes with certain expectations from her audience as well. It was about time that we got to know this writer her worlds better.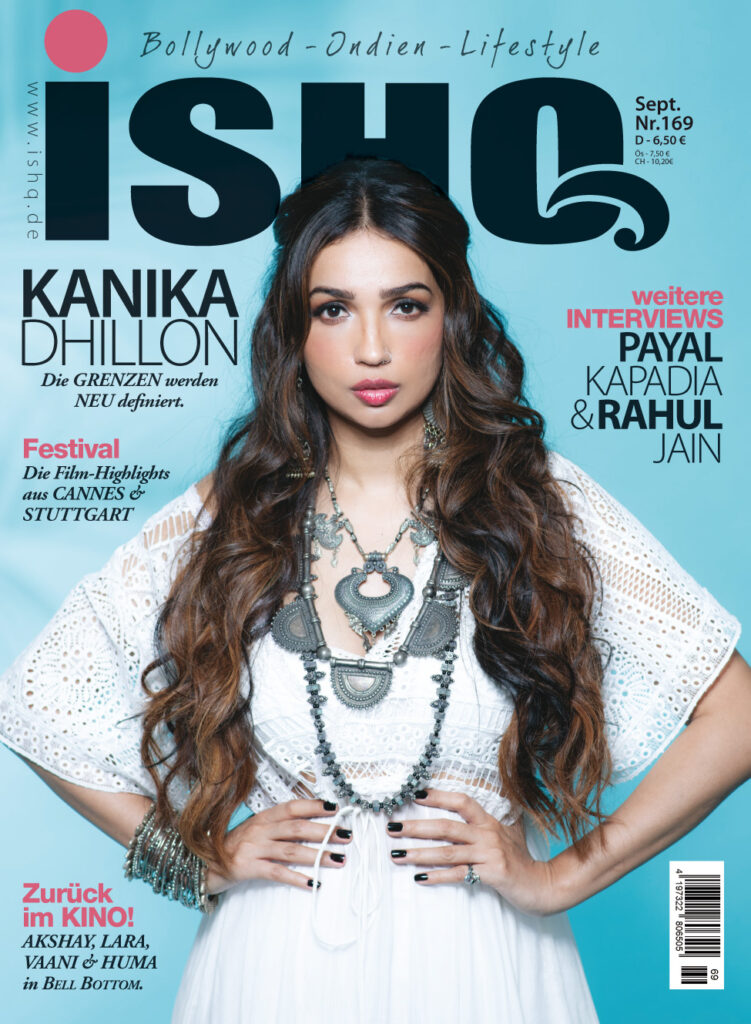 Film festivals may not have the same appeal in these pandemic years, but the International Filmfestival at Cannes is still an important plattform for cineasts all over the world. Two very exciting documentaries from India could be found in the program in 2021. Among other things they deal with protests, love, exploitation and climate change. ISHQ has an interview with the award winner Payal Kapadia (A NIGHT OF KNOWING NOTHING) who was honored in Cannes for the Best Documentary, and with Rahul Jain who has already received a lot of recognition for his film MACHINES and now came to Cannes with INVISIBLE DEMONS, together with one of the producers, Heino Deckert.
At the Indian Film Festival Stuttgart in Germany THE GREAT INDIAN KITCHEN was one of the big winners, a sensitive film about a woman who frees herself from patriarchal structures. But we also review other highlights of the festival in different Indian languages and categories from documentaries to shorts.
Meanwhile BELL BOTTOM with Akshay Kumar, Lara Dutta, Vaani Kapoor and Huma Qureshi has reopened Indian cinemas and of course we are also looking at what else is in store besides the exciting new Blockbuster with a historical background, even if it is – for the time being – not available anywhere in German. On the other hand, the H&M collection by Indian Designer Sabyasachi who had already dressed many Bollywood Stars and is now celebrating his first international success, was only available for a very short time.
About ISHQ:
The magazine was founded 2006 and is the only print outlet available in Germany, Austria and Switzerland that is all about Indian Cinema and tailor-made exclusively for the German-speaking market. Not a traditional region for these films in general Bollywood gathered a huge fan-following after hits like KABHI KHUSHI KABHIE GHAM were shown on free TV in the early 2000s with great ratings and DVD sells. ISHQ has been covering Indian films since then, always keeping in mind what got fans hooked in the first place and what sets the Indian film industry apart from those in other countries, but also looking at the changes and trends that don't always translate that well.
ISHQ continues to celebrate Indian Cinema and aims to present it beyond the popular but very limiting "Bollywood" brand. Since no recent films got the kind of exposure Hindi films got in Germany around 15 years ago, there are now a lot of stereotypes and misconceptions in mainstream media about what an Indian film today looks like. To change that perception and show the whole spectrum the magazine always takes a look at films that travel to Indian and International Film Festivals as well as commercial or critically acclaimed hits that make waves on the subcontinent. It also focuses on releases that get dubbed into German, since they can reach a much wider audience this way. The team behind the magazine sees a lot of potential and interest in Indian content, but it isn't that easy to find it, even in the age of streaming. So, that's where ISHQ comes in, while also offering a different perspective on these films and shows and give a little more background information. There is also a lifestyle section featuring articles on fashion, music, wellness, dance, recipes and travel advice to top it all off.